QUINOA PATTY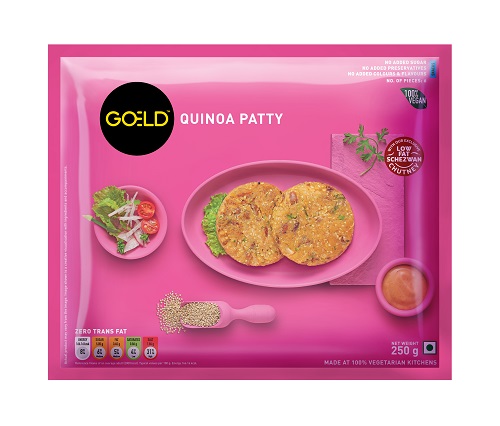 Quinoa has become one of the most popular diet foods in the world! Goeld has turned this diet food into a yummy Quinoa Patty. The recipe for this quinoa patty is infallible! The crumbed patty of quinoa will give your taste buds the ultimate satisfaction. The ready-to-eat meal contains black bean and tomato, which makes it a flavourful, nourishing, instant snack. This delicious frozen food product has come out of a 100% vegetarian kitchen and is purely vegan. The ovenable frozen delight can be relished without worrying about artificial colours, flavours, preservatives and trans fat. This wholesome, ready-to-eat, frozen snack is the perfect soul food to kickstart your day, especially when it's enjoyed along with our exclusive low-fat Schezwan Chutney.
Contains Allergens : Gluten
Cooking Instructions : Shallow Fry
Storage Instructions : Store at -18 °C or below. Do not refreeze after defrosting.
| | | | |
| --- | --- | --- | --- |
| Energy (kcal) | 166.16 | Fat (g) | 3.45 |
| Protein (g) | 5.53 | Salt (as NaCl) (g) | 1.84 |
| Carbohydrate (g) | 28.25 | Trans Fat (g) | 0 |
| Total Sugar (g) | 5.05 | Saturated Fat (g) | 0.86 |
Shallow Fry
Preheat oil in a pan to 200–220ᵒC. The oil level should not be more than half the thickness of the ready-to-eat frozen patty.
Place frozen patty on the pan, cook for 4-5 minutes, flipping it every minute until both sides turn golden brown.
NOTE: Use a fork or tongs for flipping.