ALOO PARATHA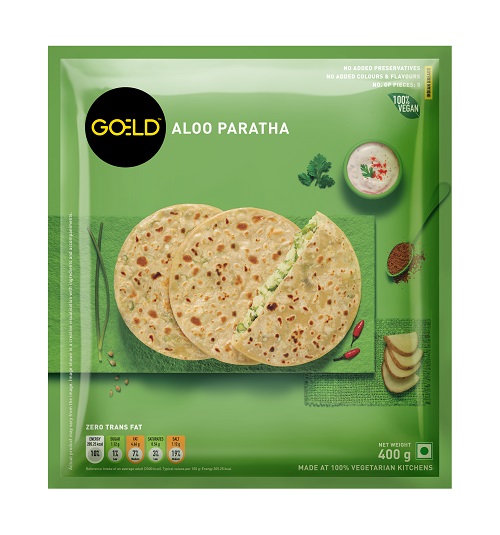 Goeld introduces you to the authentic aloo paratha in our ready to eat Indian bread range.
You can cook this Indian stuffed potato paratha in the nick of time! This frozen veg snack is ovenable or can be Tawa fried without any hassle.
The delectable frozen aloo paratha is stuffed with rice, homely goodness of potatoes, and finished with onions, green chilies & freshly picked coriander leaves Our 100% vegan ready-to-eat aloo paratha is prepared in 100% vegetarian kitchen.
Not only does this frozen delight has freshness and aroma, but it's also made without adding any artificial flavour, colour, preservative, or trans fat.
Contains Allergens : Gluten and milk based products
Cooking Instructions : Tawa Fry or Ovenable
Storage Instructions : Store at -18 °c or below. Do not refreeze after defrosting.
| | | | |
| --- | --- | --- | --- |
| Energy (kcal) | 205.25 | Fat (g) | 4.66 |
| Protein (g) | 5.48 | Salt (as NaCl) (g) | 1.12 |
| Carbohydrate (g) | 35.35 | Trans Fat (g) | 0 |
| Total Sugar (g) | 1.12 | Saturated Fat (g) | 0.54 |
On Pan
Remove Goeld's frozen aloo paratha from deep freezer and place it on a preheated pan.
Heat the ready-to-eat paratha for 3-4 minutes (on medium flame), flipping every 30 seconds while adding 1/2 teaspoon of oil or butter to the sides of the pan.
Keep pressing the paratha gently till both sides turn golden brown.
In Oven
Preheat the oven to 200 – 220ᵒC.
Lightly brush both sides of the paratha with oil or butter and place the paratha on the metal tray.
Bake for 3-4 minutes and then flip the paratha.
Bake further for another 3-4 minutes till it turns golden brown.
Goeld's scrumptious, frozen aloo paratha can be heated without oil or butter as well.