PREMIUM MALABAR PARATHA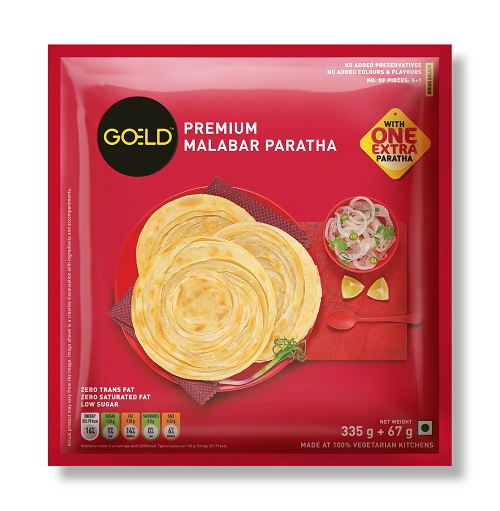 The classic, layered & flaky paratha from South India is one of the most popular bread types in India. This ready-to-eat, frozen Malabar paratha is the perfect accompaniment with many Indian curries and appetisers. The Malabar Paratha is made using the authentic recipe, right from the native kitchens of Kerala. Pair this easy-to-heat, ready-to-eat Indian bread with a rich and indulgent curry of your choice. Don't forget, Goeld prepares all their frozen delights without any artificial colours, flavours, preservatives and trans fat.
Net Weight : 402 g (335 g + 67 g)
No. Of Pieces : 5+1 Pieces
Contains Allergens : Gluten and milk based products
Cooking Instructions : Tawa Fry or Ovenable
Storage Instructions : Store at -18 °C or below. Do not refreeze after defrosting.
| | | | |
| --- | --- | --- | --- |
| Energy (kcal) | 321.79 | Fat (g) | 9.59 |
| Protein (g) | 6.58 | Salt (as NaCl) (g) | 0.33 |
| Carbohydrate (g) | 52.29 | Trans Fat (g) | 0 |
| Total Sugar (g) | 4.04 | Saturated Fat (g) | 0 |
On Pan
Remove the frozen paratha from deep freezer and place it on a preheated pan.
Heat the ready-to-eat paratha for 3-4 minutes (on medium flame), flipping every 30 seconds while adding 1/2 teaspoon of oil or butter to the sides of the pan.
Keep pressing the Indian Malabar paratha gently till both sides turn light brown.
In Oven
Preheat the oven to 200 – 220ᵒC.
Lightly brush both sides of the frozen paratha with oil or butter and place it on the metal tray.
Bake for 3-4 minutes and then flip the Malabar paratha.
Bake further for another 2-3 minutes till it turns light brown.
Frozen Paratha can be heated without oil or butter as well.