SUCCESSFUL WOMEN, STRONG COMMUNITIES
Women are the invisible backbones of our homes and make a crucial contribution towards making our lives comfortable. Goel Group is committed towards women empowerment and strives to make women self-sufficient through livelihood generation. One of our initiatives involves creation of infrastructure for cafeteria and other amenities. By this we aim to train, mentor and empower women self-help groups from less privileged economic backgrounds and assist in building micro-entrepreneurial skills so that they become financially independent.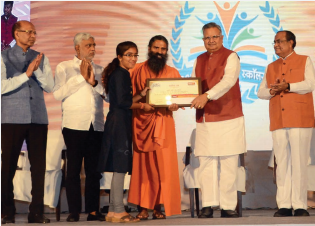 Goel Group also realises the importance of early education in a person's life. Hence, through our ʻSwarnasharda Scholarship Programme', we provide scholarships to girl toppers in all districts of Madhya Pradesh and Chhattisgarh. This enables them to realise their fullest potential and prepares them to be self-reliant in the future.
One of the many successful and fulfilling endeavours of Goel Group involves vocational training of tribal women in Kanker district of Chhattisgarh. This initiative includes bamboo product development, cloth bag making to replace plastic and other cottage industry relevant skills. This has motivated women to become self-sufficient and confident and will help them in a long way towards creation of sustainable livelihoods.