DILLIWALI DAL ALOO TIKKI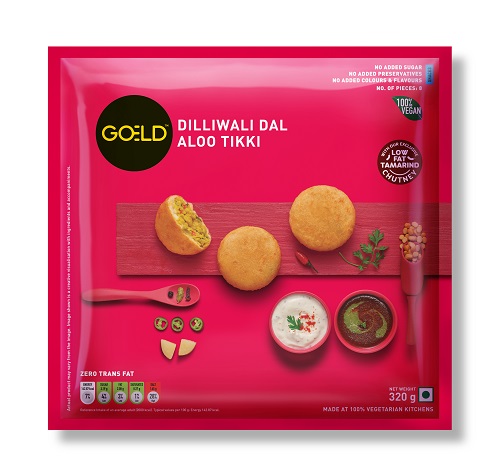 This appetising, ready-to-eat snack is filled with flavourful lentil and potato to turn your day around, in just seconds! This instant frozen meal is sure to make your day! You can cherish the delightful taste of our frozen food products as every ready-to-eat meal is made with great love and care. The recipe of Dilliwali Dal Aloo Tikki includes flavourful authentic Indian spices. Most of our frozen meals are 100% vegan and all of them are prepared in a 100% vegetarian kitchen. So, relish the delectable, frozen potato lentil tikki without worrying about artificial flavours, colours, preservatives and trans fat. Try this delicious frozen snack with our flavourful low fat tamarind chutney.
Contains Allergens : Gluten
Cooking Instructions : Deep Fry / Shallow Fry
Storage Instructions : Store at -18 °C or below. Do not refreeze after defrosting.
| | | | |
| --- | --- | --- | --- |
| Energy (kcal) | 142.87 | Fat (g) | 2.08 |
| Protein (g) | 4.49 | Salt (as NaCl) (g) | 1.65 |
| Carbohydrate (g) | 26.56 | Trans Fat (g) | 0 |
| Total Sugar (g) | 3.19 | Saturated Fat (g) | 0.27 |
Deep Fry
Please do not thaw the crunchy frozen delight. Remove the product from deep freezer.
Deep fry in hot oil on medium flame (160-170ᵒC) for 4-5 minutes until crisp and golden brown.
Shallow Fry
Preheat oil in pan to 200–220ᵒC. The oil level should not be more than half the thickness of the ready-to-eat tikki.
Place the frozen tikki on the pan and cook for 4-5 minutes, flipping it every minute till both sides turn golden brown.
NOTE: Use a fork or tongs for flipping.